As Colorado voters consider approving a government-run program to provide paid leave benefits to workers across the state, they should understand that there are many questions left unanswered. Prop 118 mandates participation for all employees and employers and once implemented, the program will not likely be eliminated or rolled back.
---
Update – Jan 16, 2020: Colorado voters did approve Prop 118 in November. The proposal outlined terms for a program that will now be implemented for all employed workers and businesses across the state of Colorado.
Its terms are much more generous than the more modest programs that the three original states – CA, RI, NJ – first implemented and will likely present a significant challenge to the state administration tasked with managing it as well as businesses who must now make the many decisions required to fold the non-negotiable terms into their compensation and operations plans.
---
It is one thing to manipulate large complex systems like our economy. It is another to control them.
Wage supports and job guarantees are believed to be the solution to increasing labor force participation among women. But what works in theory does not always work in practice.
This policy approach may open opportunities for some. But by applying these terms universally as government programs do, individual choice is lost. Paid leave may hinder women who seek to grow their careers.
While it may be true that more women are working, there are indications that they are filling lower-level positions.
Relative to women in the US, women in OECD countries fill more part-time positions or positions with lower levels of responsibility. 1 This likely leads to lower earnings power.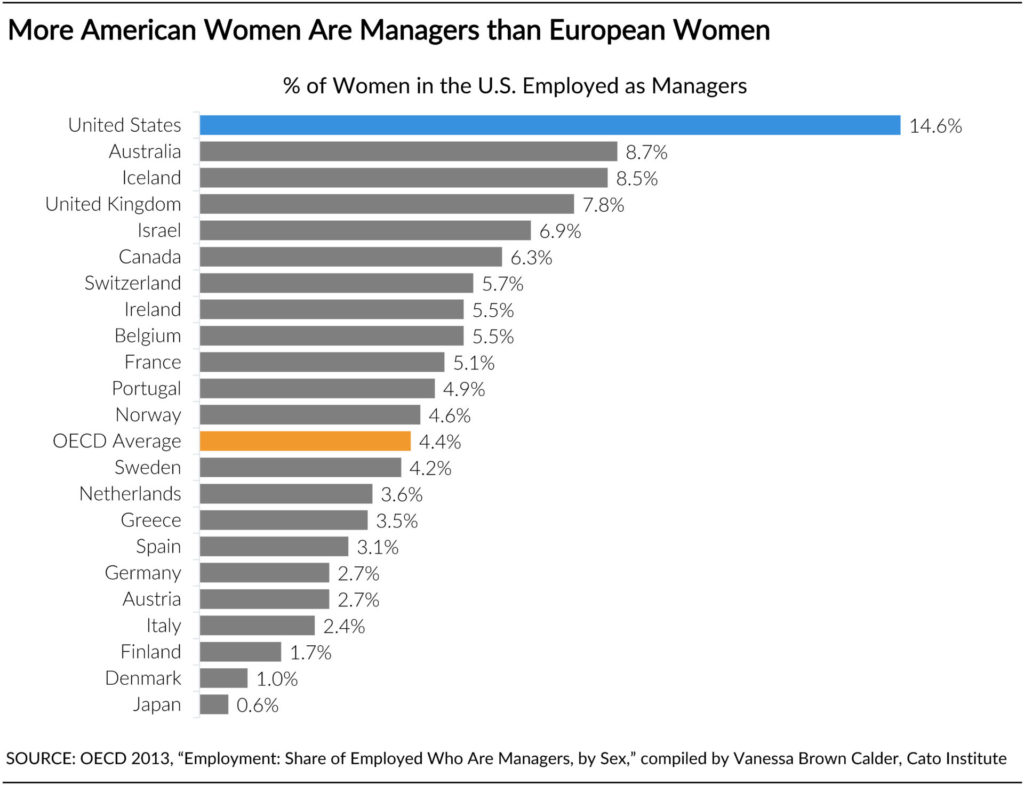 ---
Job-protected paid maternity leave can actually exacerbate gender inequality among highly educated workers in terms of the probability of being promoted or holding management positions

The Long-Run Effects of Wage Replacement and Job Protection by Jenna Stearns.
How paid leave burdens working women with a mantle of higher perceived cost.
Because women remain the predominant caregivers, the benefits accrue most noticeably to them. But also the consequences. Growing program use has impacted the operations and the sustainability of businesses. Every paid leave claim is an absence and a disruption in the workplace.
Absences fueled by a burdensome government paid leave mandate encourage a proxy for all women. It encourages the perception that they represent higher expected costs to the company. This likely influences the resulting lower participation of women in management.
The shift toward lower levels of management and work commitment could also be a voluntary choice by women in response to heavy financial incentives. It is most likely a combination. But it does take away choice for women who seek to increase their earning power and grow their careers. It may also reduce access to resources they need to fashion their own solutions to work/life balance.
---
The US has resisted falling in line with these broad but unproven approaches.
Advocates in the US are pushing aggressively for one-size-fits-all solutions that rely on the government as the purveyor of paid leave. This would be premature and poses a high level of risk. If we get this wrong, we have displaced precious resources and committed ourselves to one path, closing off others. All indications are that no, the diverse countries of Europe do not have paid leave "all figured out."
---
Paid leave policies require a growing commitment of resources, typically drawn from wages. Is paid leave the top priority for parents?
What about healthcare, childcare, career development, and flexible work arrangements? An imbalance of resource allocation diminishes what is available to meet other needs.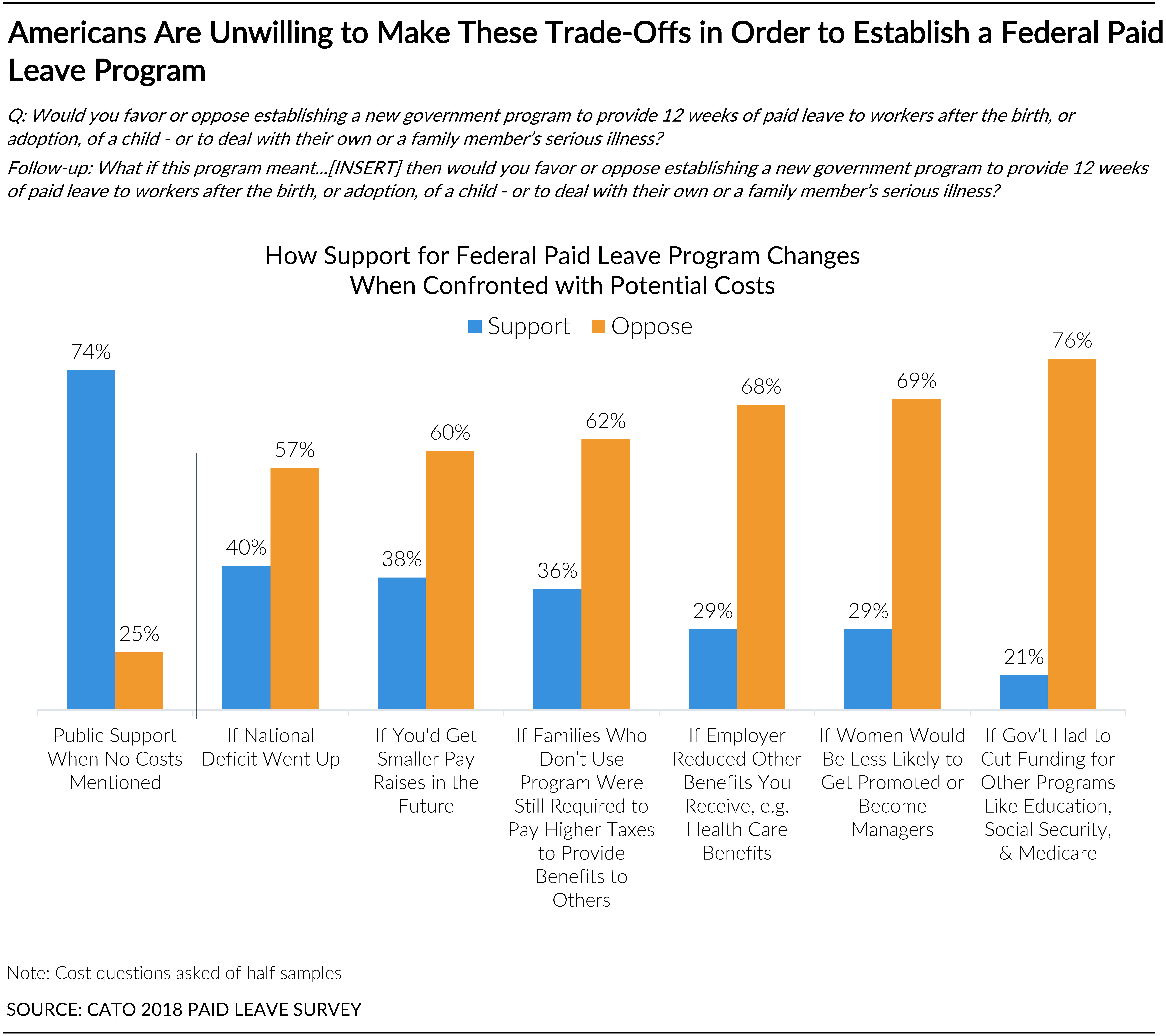 Do we risk interrupting the response in the private sector to the many needs of working women?
Progress in the private sector has been rapid. It is less visible and dramatic than a government paid leave program. It looks more like an expanding network of choices. This process involves discarding what does not work and replacing it with new or better ideas as the needs of women change. It is far from perfect but always changing.
The benefits industry has made great strides in the last 20 years moving toward personalized benefits. Advancing technology supports rich feedback loops from individual workers. According to SHRM, the Society for Human Resource Management, there are now 350 different employee benefits. This is up from 60 just 20 years ago.
---
What if paid leave delivers disappointing results?
Government programs are extremely difficult to roll back or change. In contrast to the adaptive private sector process, a government program becomes embedded in law and a political process. It resists change and optimization.
This has left countries fewer options to make corrections as negative impacts have emerged. There are growing indications of retarded dynamism of their economies influencing entrepreneurship, innovation, and growth.
---
Mobility should be a goal we all work toward
The unfortunate truth is that it is unlikely that a free-market approach can universally provide generous benefits across all workers. But we continue to work toward meeting employees where they are. We are free to pursue efforts both private and public that address the most vulnerable workers.
There are always better solutions. We must continue to stretch our thinking. Multiple paths generate choice. Government paid leave pushes all workers into one solution that is likely to disappoint or worse, fail.
Prop 118, the current Colorado proposal for paid family and medical leave, is premature. It is deeply flawed and a disservice to workers, businesses, and taxpayers – both today and to their future needs.
---
1 Female Labor Supply: Why is the US Falling Behind? Francine D Blau and Lawrence M Kahn
Additional note: The Independent Women's Forum issued their 2nd edition of Working for Women, A Modern Agenda for Improving Women's Lives. Too often we fall back on outdated policy models without acknowledging or addressing their many flaws. This collaborative report considers a range of modern policy options that seek to explore the needs of working women more holistically and that allow them more choice in changing environments.