Image from CDLE archived video
This was originally published in 2020. It provides some of my initial insights as well as links to many of the resources and work products of the task force. We delivered a final report (link provided below) to the Colorado General Assembly in January of 2020. I encourage you to visit the Featured Topics tab where I plan to post a series of short essays as I look back two years later.
---
The premise of the Paid Family and Medical Leave Task Force, convened as a result of SB19-188, was this: assuming passage of a PFML program for Colorado, what should that program look like? The limited agenda focused on two policy models, a Universal Social Insurance Program and later, an Employer Mandate, a discussion with multiple contributions by Pinnacol Assurance. Left unexplored were alternatives to a mandate or challenges to the assumption that a government-run PFML program was the better solution for our workforce and economy.
While I have heard it repeated that we had unanimous decisions on 14 policy points, it is important to note that agreement on various points in our final recommendation should not be interpreted as confirmation of support. There were several on the task force who have fundamental concerns and misgivings about a government-run program and mandate, as well as generous provisions that may not be sustainable and may result in negative consequences to businesses, workers, jobs, and the economy. I was among them.
Presumably, several positions were appointed to invite perspectives from the business community, but there were limited opportunities for us to discuss costs and risks that lie beyond the scope of the administration of the program and the value of the health benefits of leave – benefits that few dispute. The Task Force risks promoting an incomplete assessment, that if repeated enough seems adequate to act on. But focusing only on the benefits and the scope of program administration ignores critical risks and costs, including those borne by businesses due to their diverse operational needs, that ultimately workers will bear through fewer available and lower quality jobs and higher payroll taxes.
Information that the Task Force did Consider
The limited time was spent primarily exploring and crafting policy proposals to send to an actuary with the goal of optimizing advocates' policy goals in the context of maintaining a sustainable program. The Task Force reviewed studies from experts, all three from academic institutions or policy think tanks who have done extensive research on the impacts of PFML leave on the health and well-being of workers, as well as a study prepared by CDPHE Colorado Department of Public Health and Environment. We also reviewed a study by CDLE, Colorado's Department of Labor and Employment, on costs and considerations for policy implementation and administration.
We reviewed nearly 1000 written comments submitted by the public during a 30-day window, heard from several guest speakers, advocates of PFML. We heard from an attorney with experience supporting businesses who have had to navigate the evolving laws in the existing PFML states. He provided cautionary insights on provisions that deserve attention and careful consideration.
After several sessions spent deliberating the optimal setting of each of the policy parameters, the Committee submitted two policy proposals to an actuary. One with expected high benefits and the other with lower benefits in order to gain two cost points.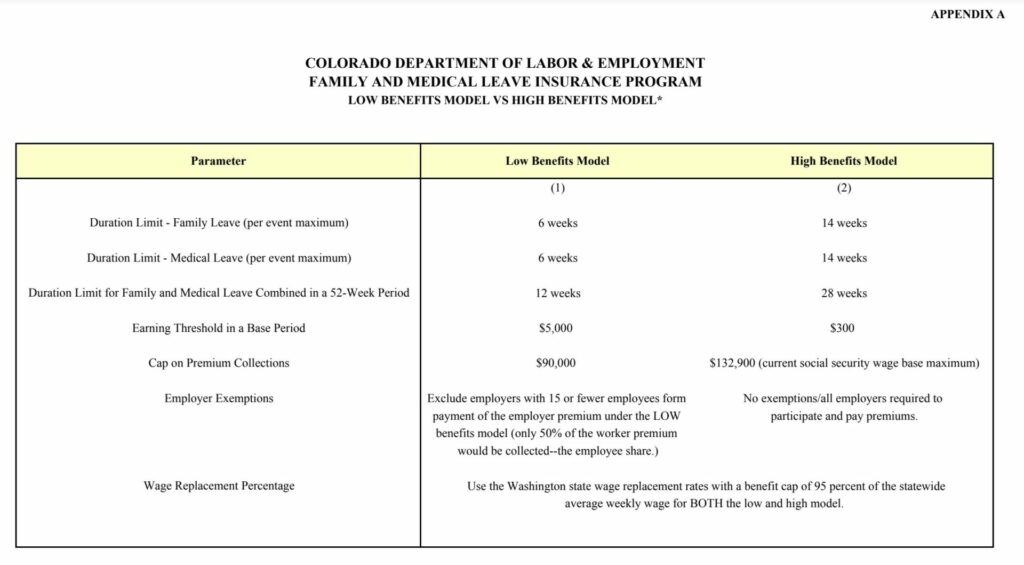 Estimates and conclusions in the actuary's recommendation included recommended premiums for the two submitted policy models. Assumptions included one year of premiums collection before paying out benefits for Year 1/Year 10 with an estimated use rate trend of 3.53%, and a first year utilization rate hovering just below (Low Model) and just above (High Model) 7% :
Recommended premium rate – Year 1/Year 10
Low Model – .66%/.81%
High Model – 1.09%/1.34%
The actuary's final report, as well as a supplemental to account for one year of premium collection before paying out benefits, is available on the Task Force website.
There was widespread concern for the lack of reliability of the report's results due to the quality of the data the actuary would have to support his estimates and the short timeframe and limited budget allowance provided. The actuary had to rely on data flawed by the complexity, wide variability and contextual differences among the states' programs that the data were drawn from.
It is reckless to rely on a prediction model with so many judgement considerations and with so many variables that are influenced by individual decision-making and involving such large sums of taxpayer resources. Any one of the many variables, if significantly divergent, can lead to detrimental outcomes.
An Employer Mandate Option
Pinnacol Assurance's exploration of an employer mandate model coincided with the work of the task force which allowed for opportunities to collaborate and discuss strengths and concerns. Documentation of their initial presentation and a follow up for clarification, as well as their actuarial report are available to the public.
The Final Recommendation has Mixed Value.
The final recommendation, delivered to the General Assembly January 6, was compiled and edited from Task Force Member contributions to provide a range of perspectives. There is value in this effort to parse out the many details and concerns for this complex and far-reaching policy. Proponents have heavily cited points due to the extensive research on PFML benefits by academic institutions and think tanks.
But still glaringly absent are risks and costs. We lack reliable data on how many workers now have similar benefits due to complexity and confusion over employer-provided benefits, a lack of common terms, and scarce collection of the information from the private sector. We lack confidence on how much administering and delivering these benefits will cost – both to workers and employers. And the many impacts to businesses, jobs and the economy will remain unclear until they emerge over time.
The Chairs of the Committee gave me the opportunity to include an addendum to the final recommendation, in which I highlighted and briefly explained some of the less visible direct and indirect costs and risks imposed on businesses, particularly small businesses, and consequently, jobs. These costs and risks are difficult to quantify and track, and are unique to the vastly divergent business models and environments.
Hadley Heath Manning, was a fellow task force member and Director of Policy for IWF, Independent Women's Forum. She has concerns for the economy and women in the workforce as a result of unintended consequences from paid leave mandates. She was also given the opportunity to contribute an addendum and provided brief descriptions of alternative policy options at the state level as well as the federal level -where she is currently most engaged.
It requires a substantial investment of time to truly understand the layers of detail, as well as the depth and breadth of this complex policy. This makes it vulnerable to misinterpretation and over-simplification. If voters and their representatives decide to make this decision for all Colorado workers across the state and mandate the commitment of personal wages to sustain it, they should do so fully aware of the wide-ranging costs, risks and concerns, whether immediate or long-term.