Among the states and countries now providing wage supports for caregiving, Colorado Prop 118 would create a program with more breadth than most. It is an ambitious undertaking. It is not at all clear that it will be affordable or sustainable. The concern is that we will be taking on too much, too soon, before we understand the policy's far-reaching implications.
A recent comprehensive report by Common Sense Institute reveals a number of likely scenarios that challenge the claim that this will be solvent at currently projected payroll tax rates.
Beyond those numbers, we are struggling to understand the impacts of the many factors in play that are likely to lead to those higher growth rate scenarios. Below is an introduction to a few that have the largest influence.
But first, a mention of the most outsized when considering the long-term development of this government approach to a paid leave solution. The family leave kincare component in particular is still in its infancy worldwide. Only a handful of countries in Europe have extended beyond care for one's own children.
This Colorado proposal takes us into new territory and goes all the way. It would expand leave coverage to a wide range of relationships. Beyond all levels of extended family, an employee would have the right to leave and wage replacement even for a relationship that resembles a family relationship.
This is like forcing the entire state around a blind curve. Once implemented it is hard to imagine lawmakers rolling back any benefits. The burdens will fall on workers' wages, job opportunities, and taxpayers.
---
Five factors contributing to ongoing program growth and cost.
Lawmakers continue to expand benefits to meet rising expectations.
Multiple advocacy organizations have succeeded in adding their targeted need into these growing programs. More needs will likely be proposed.
Modifications are part of the process but are more easily directed toward increasing the extent and scope of the programs' benefits. Disappointing outcomes have emerged and will continue to do so. So far, these have included benefits not reaching their intended targets, low-income workers. Further modifications will encourage more use. Will it be limited to those intended targets or increase use across the board?
Demographic data suggests that there is plenty of room for growth based on identified needs for caregiving.
Lack of awareness has plagued earlier states. Today's rapid spread of information will speed the adoption of the benefit. The program has gained widespread popularity. With encouragement, workers will more widely exercise their protected rights to these expansive benefits.
---
Policy goals in conflict
This is only the beginning. Together, advocates agree that each must increase and expand use for their targeted needs and purposes. These include low-income workers, young birthmothers, young parents, caregivers of elderly loved ones, chronically ill, military and their families. There are also growing inclusions for victims of domestic abuse, violence, or stalking.
In order to promote successful passage, advocates must also claim predictability and affordability. Is it realistic to expect them to deliver both generous, wide-ranging benefits and affordability?
We are still learning, yet new paid family leave proposals continue to rely on what are likely to be outdated assumptions to project program costs.
It would be instructive for Colorado to pay close attention to the early results of states like Washington, Oregon, Massachusetts, and Connecticut. Contrary to the earlier states, these states are implementing the entire policy bundle at one time. Medical disability, parental leave, kincare, and even domestic violence are included.
These reach the new more generous levels advocates have been promoting. This is the ambitious approach outlined by Prop 118.
We won't fully understand these costs until states with these expanded programs begin accepting and paying out claims. Washington was fully operational on January 1, 2020, but the others, will not be until 2021 or 2022. It will take time – likely several years – to understand the patterns and rates of use. It seems early to push forward with so many uncertainties.
---
Low levels of awareness and the growing need for caregiving means there's lots of room for growth of the program
After sixteen years, California's working population must be familiar with the family leave benefit. Yet studies continue to reveal a nagging lack of awareness among the broader population, including confusion over eligibility and the application process.
Understandably, this is a disappointment for the workers who are paying for a benefit they may be eligible for but not using. It also frustrates policy advocates, who continue to craft modifications to break down barriers to broader use.
For example, California spent 6.5 million in 2014-2017 on an education outreach program, Moments Matter. Awareness is unevenly distributed. There are higher rates of awareness in urban areas. This is most likely because of the prevalence of larger firms. They have active HR departments that serve the employees and facilitate use.
"Appelbaum and Milkman have provided the most continuous coverage of PFL awareness in California, documenting the awareness of the program in 2004, 20112 and 2013. The most recent research done regarding awareness, however, was completed by the California Field Poll in 2015 and found that only 36% of voters were currently aware of the PFL program. This is a noteworthy decrease from the reported 42.7% awareness in 2011 and the 48.6% awareness reported in 2009.

From a study by Andrew Chang & Company, commissioned by California EDD
Other states have had similar experiences. But today, Paid Family Leave is part of a very active national conversation. It is likely that the combination of higher rates of awareness and changing workplace norms will lead to higher use. But how much higher?
---
Bonding leave is growing and has the wind at its back.
In the private sector, temporary disability, maternity leave, and more recently parental bonding leave have become more prevalent. Caregiving leave is growing in popularity but is a relatively new offering.
Bonding leave applies to parents of newborns or to adoptive or foster parents. It usually must be used within the first 12 months. Many states allow for intermittent use over that term.
Workplace cultures are evolving. They are more supportive of young parents and bonding for fathers. This has probably impacted use rates in the three states, and so it is not surprising that this take-up rate has accelerated.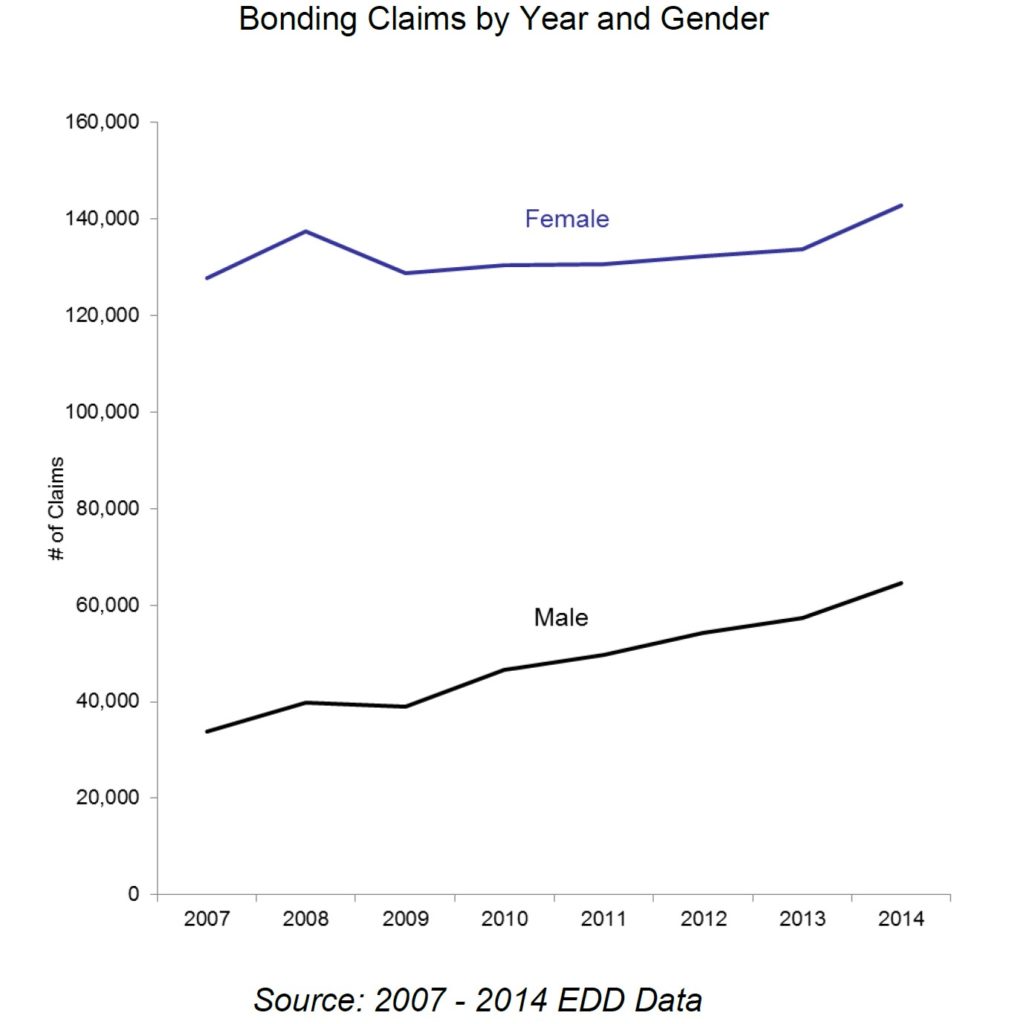 Bonding claims for fathers are still significantly lower than bonding claims for mothers. Very few PFL claims are made for foster care and adoption.
---
Use of the family leave program is growing, but is still in it's infancy.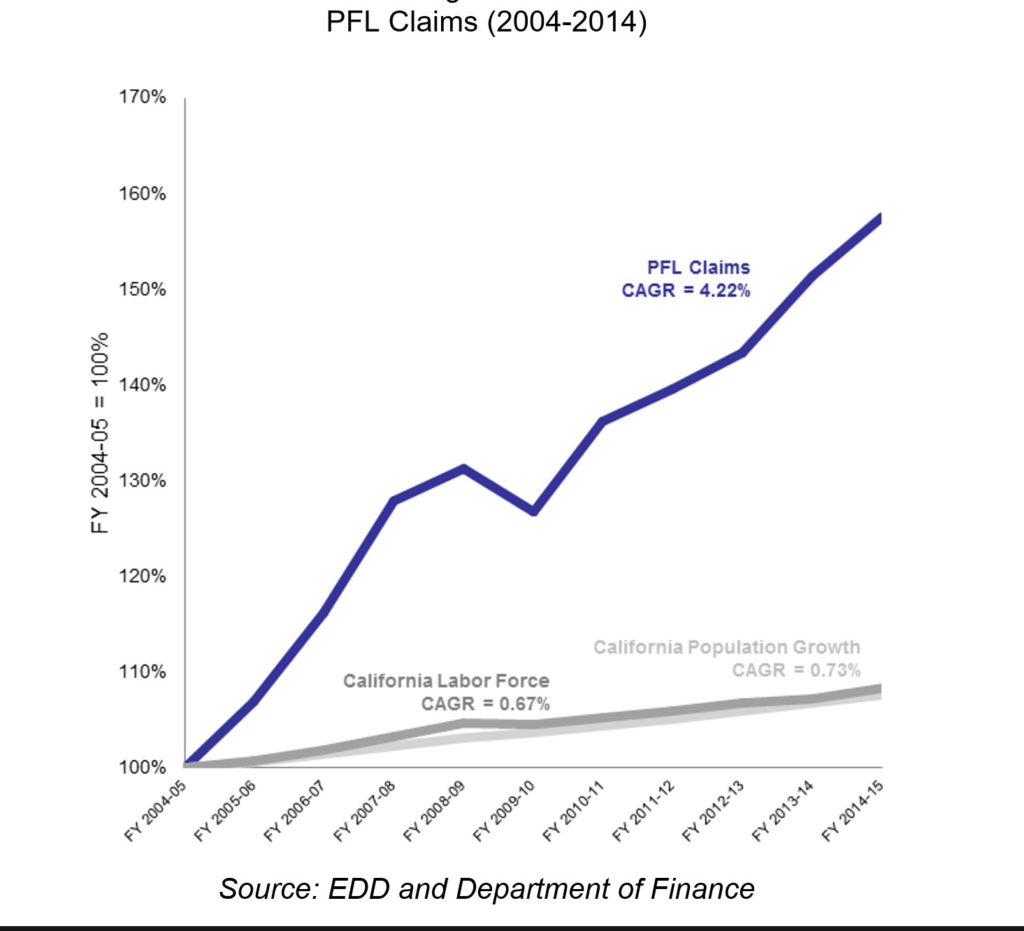 Family caregiving leave, sometimes called kincare, which extends to a wide range of relationships, has still low use rates relative to the others – temporary disability and bonding. Yet there is plenty of need as demonstrated by organizations particularly concerned about caregiving for our aging demographic.
Stakeholders also point out that even though one in six Americans reportedly provide care to elderly or disabled family members, the numbers claiming PFL benefits for providing care appear to be comparably much lower with just 26 thousand claims among California's 15.7 million workers in 2013.

From study by Andrew Chang and Co, commissioned by California EDD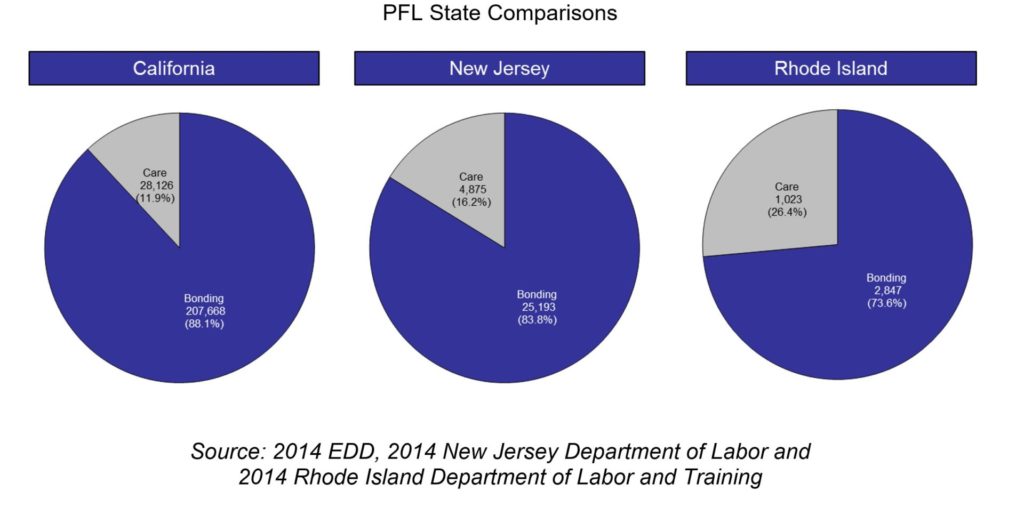 The graph above illustrates the relationship between leaves claimed for the caregiving leave (gray) and the leaves claimed for bonding (blue). These numbers suggest that not even 1% of those part-time and full time working adults who are currently providing care are applying for benefits.
In combination with the projected growth in needs for elder care, it is reasonable to expect significant claims growth for this caregiving leave benefit.
While an imperfect comparison, it seems reasonable to think that workers would access the program much more as it becomes more widely accepted and understood.
Expanded relationships are intended to support today's growing caregiving needs.
States have been expanding programs to include more caregiving relationships. The eight states indicated below include several that are still in various stages of implementation.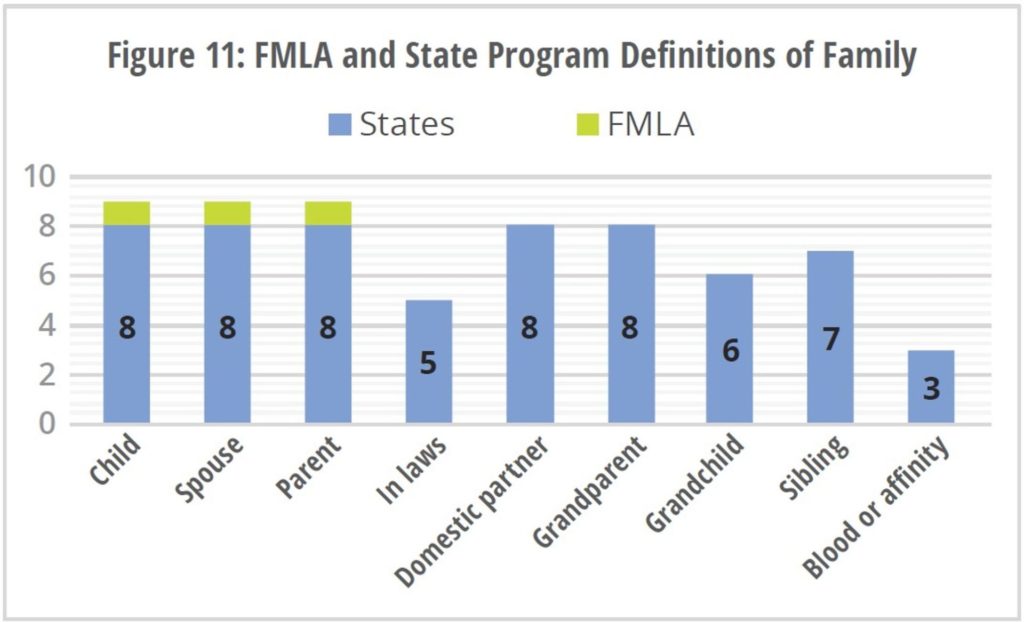 ---
How much power does the combination of job protection and wage replacement have to impact use rates?
FMLA, the federal law that offers workers legally enforceable job protection, does not include a wage replacement component. It allows workers to take a leave without interference, to expect reinstatement after a leave, and non-discrimination or non-retaliation. It shifts the relationship of accountability almost exclusively to one between the State and the worker.
FMLA has not applied to small firms with fewer than 50 employees. Many recent proposals, extend the "right to leave" terms on those small employers. Prop 118 goes further than any state in full operation so far. It mandates these terms on all firms with 1 employee or more. How will this impact not only use rates but the sustainability of small firms? Job protection exposes businesses to different levels of risk and costs depending on their size or industry.
---
This policy is a lot to deliberate. It is big. It is complex and confusing. We all want the best possible outcomes. Is one state-mandated PFML program the right solution for what is a changing and very personal life/work balance for every worker? Is it wise to burden workers without a clear understanding of costs and how they will grow over time? It seems a big risk. Only time will tell.